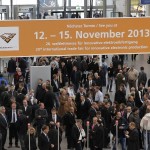 Productronica, which takes place in Munich from November 12-15, is expected to have 4% more exhibitors than when it last was held two years ago.
"We are seeing the same level of confidence as in 2011," said Christian Rocke, exhibition director of Productronica.
In its most recent publication, the Productronics Association in the German Engineering Federation (VDMA) forecast moderate growth in sales for manufacturers of components, machines and systems for the electronics industry.
According to Rocke, the exhibition reflects the market for electronics manufacturing in its entirety, so it reflects the economic situation in the entire industry.
"We have seen a slight increase in the number of exhibitors and can only confirm the VDMA's forecasts. The industry is still optimistic about the coming year," said Rocke.
The exhibition also reflects the way the European market is changing. This year's event will feature areas covering manufacturing technologies for networking renewable energy, LED manufacturing and electronic manufacturing services (EMS).
The PCB & EMS community area was created at Productronica in 2011, and with the ZVEI (German Electrical and Electronic Manufacturers' Association) it is being expanded this year. There will also be a clean-room production event.
The Productronics Association in the VDMA and Messe München have also been working to further develop their collaborative concept for a special show on battery production.
A spin-out energy storage event will be held in conjunction with the main exhibition.
Related news
Is the electrical component market turning up?
European semi sales soar in Q1
Productronica 2013 is available online