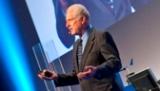 "The challenge is getting students excited about careers in engineering," Truchard told Electronics Weekly at the test and design company's industry conference in London last week.
He believes not enough students are going into engineering, preferring careers in the finance and legal sectors, which are seen as more dynamic and rewarding.
Truchard believes there are also concerns among students that there are not enough rewarding jobs in engineering.
"The challenge for the industry is creating career opportunities, otherwise they will go off into finance or the law," said Truchard.
He is not convinced the real problem is a shortage of talented students leaving universities.
"The education system is fine," said Truchard.
The NIDays 2012 design conference in London also heard a presentation by Dr. Robert Mullins, one of the researchers behind the Raspberry Pi embedded computer platform.
Mullins is a co-founder and trustee of the Raspberry Pi Foundation, a UK Charity that aims to promote the study of computer science and electronics at the school level.
"It is necessary to encourage a broader base of students to take up computer science," said Mullins at the NIDays conference.
"I believe it is a problem which can be solved, but it must start at school-level," said Mullins.
The Foundation created the Raspberry Pi a low cost embedded computer platform which can be used in schools and colleges to give students practical experience of programming and embedded systems design.
Mullins is a Lecturer in the Computer Laboratory at the University of Cambridge and a Fellow and Director of Science in Computer Science at St. John's College.