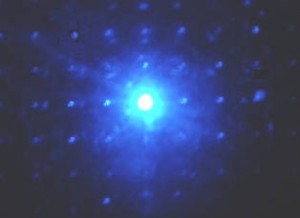 One such firm is cork-based InfiniLED, which emerged from the Tyndall National Institute, becoming a company late in 2010.
Unusually for a start-up "we were in the strange position of spinning-out of the Institute with a number of customers", chief commercial officer Bill Henry told Electronics Weekly, "and we are going to provide them with products in the very near future."
The firm's intellectual property is a way of forming light beams directly from an LED die without added lenses.
It works by micromachining the surface of GaN wafers to leave parabolic mounds. Careful control of dimensions means an LED junction remains on top of each mound, with the parabola focussing its light through the transparent wafer and out the other side.
"Far-field half angle is +/-30°. We get an awful lot of the light inside this: 70% or even 75%," said Henry. "Stand-alone [conventional] LEDs are +/-60°, with an awful lot of light outside 60°."
Because of the dimensions, only micro-LEDs can be made like this, with a 15-20µm circle at the base of parabola in which to form the LED.
To form a larger collimated source, dozens of these micro-LEDs can be formed close together in an array, up to 400µm across, for example, said Henry.
Given that a single conventional LED will put a lot more light out of the same area because no room is needed for parabolas, why are potential customers beating a path to InfiniLED's door?
Henry's answer is that system cost can be lower when light emerges from the die pre-collimated.
"Even if a standard LED is producing 10-20x more light that our LED, you need to put that light somewhere with good efficiency," said Henry. "It adds cost to collimate this, and you have to add the cost of developing the optics."
One potential application is coupling light into a fibre, and individual emitters in an array can be driven separately to form a pattern for lithography or printing – a CMOS driver chip for such arrays has already been developed. In arrays "light is controlled at source, so crosstalk is minimised at source," said Henry, claiming: "This is an enabling technology. There are some applications out there that cannot be done without our technology."
Two design-ins are in an advanced state of development, said Henry: "One product in consumer electronics and one product I can describe it as a high-end print head."
As well as customers that started as development partners in the Tyndall days, the firm has brought in more.
"We put the word out there, we never really sell it hard. If you go out to potential customers, they want to see something in your hand, and we have no standard product yet, although we may do in future," said Henry.
Commercially, InfiniLED does not snatch at every sign of interest.
"We help people build simplified optics. We need to get customers just at the right stage of development. Usually they are trying to do something with multiple LEDs and a whole host of optics," Henry said. "Each one of the customers specs out what they need, and we will decide if there is a clear market opportunity, and we test out the commitment of the customer."
Has the recession made a difference?
"I have never done this before so I have nothing to compare it with," said Henry. "We have customers, and are getting significant interest all the time. Are people always designing products, or are they just doing it because of the recession, I don't know. There are certainly a lot of people out there making products."
InfiniLED aims to be a fabless manufacturer.
"The Tyndall Institute is used for prototyping, our engineers are on site. For volume, we are finalising with a GaN-on-GaN foundry," said Henry. However: "If somebody came to us with an opportunity somewhat off our road map, we might look at licencing."