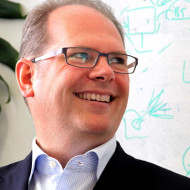 Intent HQ's software helps its customers, who include major publishers and consumer brands, generate more revenue from their websites.
The software creates a 'fingerprint' of each website visitor's interests and preferences, based on deep analysis of their social media data and online behaviour.
Onscreen content, including advertising, is then automatically tailored so that users spend longer on the site, visit more pages and share more content with their friends.
The end result is a significant increase in sales conversions rates, and a dramatic improvement in the impact and value of onscreen advertising.
"A detailed knowledge of an audience and its social content is the next critical element in the competition for consumer engagement and advertising budget," says Oxford Capital Partner, Colin Watts, "Intent HQ has already attracted commercial relationships with leading media publishers, such as The Telegraph, Sky Italia, Food Network and IDG UK. Its 'Software as a Service' (SaaS) business model also provides a reliable and growing revenue stream and low cost integration with the customer's infrastructure."
Oxford Capital joins existing investor, Edge Performance VCT, which has backed the business from an early stage. The investment will enable Intent HQ to further enhance its platform and accelerate its global marketing and sales activity.
"This funding round allows us to accelerate our global distribution and marketing," says  Intent CEO Jonathan Lakin.