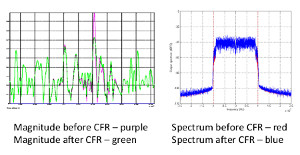 The eventual demonstration platform is expected to enable operators to evaluate this technology to more cost effectively increase 4G and 5G backhaul throughput to satisfy their customers' ever-increasing demands for data, such as high quality mobile video. The platform will also be suited to R&D exploration for 5G millimeter wave mobile access.
It will combine InterDigital's multi-hop backhaul technology with Blu Wireless's HYDRA baseband evaluation platform, which was developed for 802.11ad WiFi (WiGig) systems and has been further optimised to speed throughput in backhaul applications.
"The two research teams will enable a significant advance in the application of low-cost millimetre wave technology within the 4G and 5G mobile infrastructure markets," says Henry Nurser, CEO Blu Wireless.
Image: InterDigital – 5G Advanced Waveforms and RF – CFR (Crest Factor Reduction)