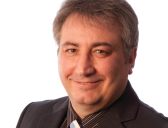 Describe your company's business in two sentences.
Zytronic, which is headquartered just outside Newcastle, is a developer and manufacturer of touch sensors which are typically used in public access and industrial applications. The company developed its Projected Capacitive Technology (PCT) which has helped touch functionality to migrate from the consumer space and be incorporated into more demanding industrial environments.
What is the biggest opportunity in terms of technology and/or markets in 2011?
Touch-enabled devices are becoming so pervasive in our lives and are so intuitive to use, that when we walk up to a display in any location we expect it to react when touched.
A good example of this is digital signage – these are large dynamic advertising screens often deployed in any place where people congregate, e.g. shopping centres, airports and now even street bus shelters.
To attract and hold the attention of potential customers whilst gathering useful marketing data, advertisers are increasingly looking to make more use of interactivity through touchscreens. The scalable and durable nature of PCT technology makes it suited to such use.
What challenges in global markets are keeping you busy at the moment?
Technology first introduced in consumer electronics products is cascading into more general usage. Multi-touch is a great example of this.
Designers (and users) of touchscreens increasingly demand the same levels of touch responsiveness and functionality on a cash dispenser or a vending machine as on the latest tablet computer.
With this level of user experience now expected even in industrial interfaces, we are developing hardware systems and embedded firmware to gather and interpret the large amounts of data from the touchscreen required to work with the latest multi-input and gesture recognition software and operating systems.
We have a dual-touch capable product and towards the end of this year we will be unveiling a new development which will combine full multi-touch capability together with durability and scalability which is important to industrial applications.
If you had to name one design technology with the largest commercial potential this year, what would it be?
The growing use of near field communications (NFC) and radio frequency Identification (RFID) presents an interesting opportunity.
We are already a supplier in many applications where financial transactions are an essential part of use, and therefore the integration of a secure, Payment Card Industry (PCI) compliant technology together with touch technology could provide a compelling combination for self service system designers.
I believe we are well positioned to work with OEMs to offer a solution here, as we design and manufacture the touch sensors, the control electronics and the supporting firmware/software in-house.
What are the new markets that you are looking to address in the future?
The development of a new series of touch sensors that combine the robustness of PCT method of touch sensing with the volume scalability of an indium tin oxide (ITO) deposition process as opposed to copper electrode printing, is allowing the company to address the mid/high volume market for small format, heavy duty touchscreens targeted at such devices as medical diagnostic tools, white goods, handheld test equipment, warehousing data entry terminals and vehicle telematics.
These sensors are designed to have advantages over the current breed of ITO sensors based on mutual capacitance techniques, as they have the ability to accurately detect touch through far thicker glass (4 mm compared to 1.5 mm), as well as being able to operate through gloved hands.
Which would you say are the key geographic regions for Zytronic?
The company has won major contracts right across the globe. Here in the UK, for example, we provide the touchscreens that enable London's bike rental units to work in all weather conditions.
Our products are also used in British-made video jukeboxes and gaming machines.
Elsewhere in Europe our sensors have been integrated into lottery terminals, public information kiosks, public transportation ticketing machines and more recently, even in a high-end range of Bosch-Siemens cookers.
In Australia, our touch sensors are used by mining firms, in South Africa by retail outlets for the telecoms operator Vodacom, and in Asia for all sorts of applications from petrol pumps to interactive menus in restaurants.
We have had several high profile projects in North America in recent years – notably providing the touch interface for the Coca-Cola Company's Freestyle soft drink dispenser, as well as being selected by Microsoft to help demonstrate what workstations of the future may look like, at its Innovation Centre in Redmond, Washington.