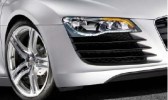 Government diktat is the main growth driver for automobile MEMS sensors, according to iSuppli, with tire pressure monitoring systems to become compulsory in Europe by 2014, and with electronic stability control systems to be obligatory in the
Tyre pressure monitoring will boost MEMS pressure sensor sales by 3X between 2009 and 2014, says iSuppli.
Electronic stability control systems will boost sales of gyroscopes, accelerometers and high pressure sensors.
Emission reduction laws will boost the markets for powertrain sensors to manage manifold air pressure and barometric air pressure, and for stop-start systems that turn the engine off at junctions.
Global shipments of automotive MEMS sensors will grow 17.9% this year, says iSuppli, to nearly 600m units. In 2011 that will rise to over 650m, then to 740m in 2012, 821m in 2013, and 955m in 2014.
The biggest market for MEMS is the USA representing 40% of world use, followed by Europe with 33% and then China and Japan.