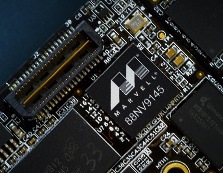 The storage to wireless chipset supplier reported revenues for the fourth quarter of fiscal 2014 of $932m, which resulted in yearly revenues of $3.4bn for the year ended February 2014. This was 7% up on the previous year.
"Fiscal year 2014 was the start of a turnaround for Marvell as we delivered year over year growth in revenue and profits. We made good progress in a number of critical areas during the year," said Dr. Sehat Sutardja, Marvell chairman and CEO.
The firm is expecting revenues for the first quarter of its fiscal 2015 to be in the range of $870m to $910m, a better start to the year than 12 months ago.
"In the first quarter, we are expecting some revenue and unit growth for our 4G LTE mobile platform from multiple customers," Sutardja told analysts in a conference call.
"We are investing in advanced technologies that will help drive increased business opportunities and continued revenue and profit growth in all of our target end markets," said Sutardja.
Revenue for the fourth quarter of fiscal 2014 was $932 million, essentially flat from $931 million in the third quarter of fiscal 2014, ended November 2, 2013, and a 20 percent increase from revenue of $775 million in the fourth quarter of fiscal 2013, ended February 2, 2013.
GAAP net income for Q4 of fiscal year 2014 was up at $107m, with full year income at $325m.