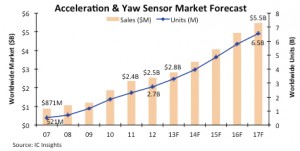 Acceleration/yaw sensors are accelerometers and gyroscope devices primarily MEMS.  Next year the market is expected to grow 19% to $3.39bn.
Between 2012 and 2017, acceleration/yaw sensor sales are projected to rise by a CAGR of 16.6%, reaching $5.47bn in 2017.
Since the 1990s, the use of MEMS-based accelerometers and gyroscope devices has expanded from automotive safety systems (primarily in car-crash airbag triggers and electronic stability controls for steering and braking) to new sensing applications in cellphones, tablet computers, video-game controllers, media players, and other portable consumer products.
A growing number of low-cost inertial sensors are being used to embed automated controls in portable products and support higher levels of system "intelligence," based on measurements of movement.
Multi-axis accelerometers and gyro devices are also being used together and combined with other types of sensors (such as magnetic-compass chips, pressure sensors, and light sensors) for multi-dimensional measurements in highly adaptive, intelligent systems that employ "sensor-fusion" software to simultaneously processes data from different devices.
With acceleration/yaw sensors moving into more high-volume systems applications, revenues for MEMS-based inertial devices have reached new record-high levels each year since 2005.
See also: What is… the Android Sensor Manager?