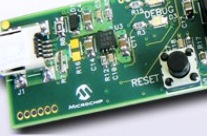 Consolidated GAAP net sales for the first quarter of fiscal 2015 were a record $528.9m, up 7.2% sequentially and up 14.3% from the same quarter last year.
Net income for the first quarter of fiscal 2015 was $89.9m. This was lower than the preceding quarter, but 14.4% up on the first quarter last year.
Non-GAAP net sales for the first quarter were a record $531.3m and non-GAAP net income for the first quarter was $151.6m.
According to Steve Sanghi, Microchip president and CEO: "We are making excellent progress towards our long term goal of 35% non-GAAP operating profit."

Sanghi said he sees "seasonally normal business environment with strengths in many of our end markets like industrial, automotive, housing, consumer electronics and personal computing".

"We are seeing exceptional strength in some of our new products and technologies which are growing revenue at double digit percentages sequentially. Our inventory of 108 days is below our targeted level of 115 and is expected to go lower this quarter. We are ramping all of our factories, but are limited by equipment lead times. We have increased our planned capital expenditures for fiscal year 2015 to $175 million."
The firm's microcontroller revenue grew 5.3% sequentially and was up 14.5% on Q1 2014. According to Ganesh Moorthy, Chief Operating Officer: "All three microcontroller product lines, 8-bit, 16-bit and 32-bit experienced sequential revenue growth".