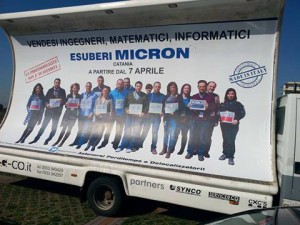 Discussions between Micron, ST, the government and the unions are to resume on Monday.
Meanwhile an eight hour national protest initiative has been called in all Micron sites targeted to bring attention to the closing deadline set for April 7th
In Agrate, Micron employees are demonstrating and picketing in front of ST's headquarters.
More Micron employees are demonstrating in front of the Italian Prime Minister's residence – the Palazzo Chigi – in Rome.
In Catania, Micron employees have occupied the hall of the Catania City Council and more are protesting outside.
In all the cities where Micron has sites, trucks with posters condemning Micron's actions are patrolling the streets.
The protesters want to be re-employed at ST, to be re-located at other Micron sites or to be offered better terms to leave voluntarily.