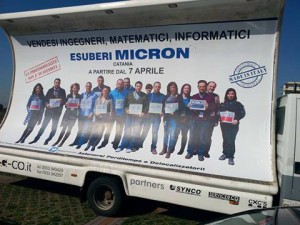 The key points of the agreement are:
1 After a 12 month period of state paid unemployment, STMicroelectronics will hire 140 people from the sacked 419 – 17 in the Naples area, 41 in Catania, 82 in Agrate with another 30 hires following later after ST evaluates open positions and sites to reach a total of 170.
2. Micron will relocate 102 people – 40 to other sites in Italy and 62 to sites abroad and Micron will pay each of the people re-located a one-off payment of 30,000 euros.
3. Micron will revoke redundancy notices on 85 people who will remain working at their current sites.
4 Many employees have applied for Micron's job offers which total 90 jobs and 20 people have been accepted by Micron for these jobs. Each person will get a one-off payment of 30,000 euros.
5. 14 employees are leaving voluntarily and will receive redundancy of 28 months salary if they leave by June 2014 and progressively less if they stay till September or December.
6. Other Italian regions – Lombardy, Campania, Abruzzo and Sicily – have committed to find jobs in other companies in their regions for those employees remaining without jobs, pending which they will be paid state unemployment pay.
If the vote on April 14th is to reject these terms, then Micron and the unions will reconvene on April 16th.