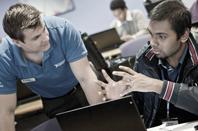 The test and design tools firm said its business in Europe grew particularly strongly. European sales revenues increased 12% year on year. This was a stronger performance, in dollar terms, than in the Americas where sales grew by 7% in the same period.
Sales in East Asia were down by 1%.
Total revenues in Q2 were $313m.
Dr. James Truchard, NI president, CEO and cofounder commented: "I am optimistic about our long-term position in the industry. The differentiation we deliver to our customers through graphical system design positions us well to solve the applications our customers face in areas such as the internet of things."
Earnings before interest, tax, depreciation and amortisation was $48m in the second quarter.
According to Alex Davern, NI COO and CFO: "While the global PMI declined slightly in Q2, the improvement in June gives us increased confidence in our ability to continue to deliver revenue growth in Q3,"
NI expects revenue for Q3 to be between $298m and $326m, up 8% year on year.
NIWeek technology conference begins on August 4 in Austin, Texas, and this year there is a focus on the impact of Big Data on different industries.