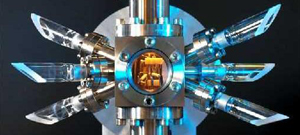 The two universities and NPL will work with business and industry, and help to shape the scientific priorities of the UK.
The establishment of a Graduate Institute, which will train up to 300 high-calibre PhD students, will provide a pipeline of skilled researchers.
There is also a plan to extend the activities of the NPL with the creation of a series of regional hubs which will work with local businesses.
"Following a formal competitive process, I have decided that the Universities of Surrey and Strathclyde will become preferred partners and will now work with BIS and NPL to develop a strategic partnership to lead NPL into the next exciting phase in its future," said David Willetts, Minister for Universities and Science.

"The partnership will help to boost NPL's and the partners' scientific excellence, will strengthen engagement with business, and will make more of the facilities and the site. An important focus will be to develop activity to support postgraduate research and training at Teddington and across the UK."
Initial areas of activity will include:
Joint working in areas of strength such as space, healthcare and industrial applications of metrology.
Developing a presence for NPL, in partnership with other organisations, across the UK through regional hubs; bringing expertise and services closer to user communities who can benefit.
Creating a vibrant research community at the Teddington site including a new Post Graduate Institute training of up to 300 high-calibre PhD students, which will provide a pipeline of skilled researchers.
In the new arrangement, Government will own NPL's operating company with the expectation that Vice-Chancellors of the two universities will join the NPL Board alongside BIS.
The alliance will work in partnership with the University of Cambridge, the University of Huddersfield and LGC on a range of complementary activities within NPL. The joint bid was also supported by a large group of major industrial organisations.
Strathclyde's Principal and Vice-Chancellor, Professor Sir Jim McDonald, said:  "Together, we will invest our joint expertise to significantly increase engagement across UK business and industry, raise our international research profile and deepen collaboration with the UK science base. The alliance underlines our commitment to the development of 'gold standard' postgraduate training which will develop the metrology experts of tomorrow."

Professor Sir Christopher Snowden, Vice-Chancellor for the University of Surrey, added: "NPL's focus on scientific excellence and industrial impact perfectly complements Surrey's world-class research in the key areas of electronics, communications, physics, health, medicine, and space science."