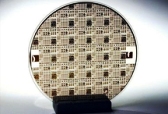 "Gallium nitride is important for the wireless basestation market and we must be sure we have the technology in place," Clemmer told Electronics Weekly.
"We will look at partnerships or other means to build our capability in gallium nitride technology," said Clemmer.
Gallium nitride (GaN) is seen as a more power efficient semiconductor technology than gallium arsenide (GaAs) for RF power amplifiers used in mobile phones and basestations.
NXP has developed its GaN process technology in collaboration with United Monolithic Semiconductors and the Fraunhofer Institute for Applied Solid State Physics.
NXP's GaN devices are manufactured on SiC substrates and the company started offering its first GaN power amplifiers last year.
Target applications are radar, avionics, RF lighting and medical chips as well as mobile phone power amplifiers.
Clemmer also continues to take the positives from the semiconductor company's first quarter numbers.
First quarter revenues of $978m were down on the same quarter a year ago, but up 5% on the last quarter.
Net loss for the quarter was $24m, an improvement on the $182m loss of Q4 last year.
"I am moderately positive about the market this year and I believe the number of design-wins we are seeing will drive significant growth for us," Clemmer
Clemmer expects sales growth of between 7 and 11% in the next quarter.
NXP's strongest product group was smartcard ICs, which saw 20% sequential growth in Q1. "The automotive business also grew by 5% sequentially," said Clemmer.
The "softest" market is the mobile basestation market, said Clemmer.
"This is causing some concern, " said Clemmer.
Geographically China remains the firm's largest national market.
"Sales into China are 2x our sales into all of Europe," said Clemmer.
www.nxp.com