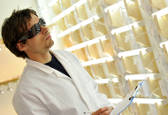 It also makes filament bulb replacements, fluorescent tube replacements, and lighting strips.
But it was not always an LED lighting firm.
It was started by Stuart Heath as The Fibre-Data Group in the mid-1980s, a manufacturer of fibre-optic parts.
"Stuart had a background selling fibre-optic components, and customers used to ask for components that were not available," said OMC commercial director William Heath, Stuart's son. "He set up to make some of those components in a tiny office in Reading in April 1984."
18 months later, he moved the firm to a business unit in Pool Cornwall, to produce a range of polished fibre-optic cables – buying drums of cable, cutting them to length, polishing the ends, and selling them.
Why Cornwall?
"From the mining days, this is a part of world that has long history of making things. There are many engineering companies. People around here still make drill bits for ground drilling, they make microwave devices, and a lot of what we do in Cornwall ends up in aerospace," said William Heath.
It also helped that Heath senior's father worked for BT at nearby Goonhilly, and Pool was in the Cornwall Development Area.
Now trading as OMC and situated a few miles down the road in Redruth, the firm has not moved production overseas.
"We still manufacture on-site, we have CNC in-house, we have soldering, and we have sub-contractors in Cornwall," said Heath.
Its fibre optic division remains a major part of the company, alongside three other divisions: discrete optoelectronic components, semiconductor lighting, and LED backlights and optical mouldings.
"Fibre optics is largely a contract-based business, although we do have a range of standard products which are good for engineers building prototypes," said Heath. "We specialise in taking our products and tailoring them for certain applications: for example, datacoms on trains."
According to Heath, a particular expertise is products with long life spans.
"The emitter in a system will produce less light over 10 years so, when it is initially set-up, more power is needed for when emitter gets weak," he said. "But too much power shortens life, so you need to know how to customise input power."
A manufacturing speciality is active alignment, where feed-back from live measurement is used to minimise losses in fibre systems during assembly, although it also offers passively-aligned products.
It was through making fibre-optic datacoms hardware, where emitters are more likely to be LEDs than lasers, that OMC first got into LEDs.
"For quiet times in the fibre business, we looked into offering LED-based components," said Heath.
At the time, said Heath, backlights used thin fluorescent tubes (CCFLs) feeding a mat of optical fibres that was scuffed on one side to make light leak out.
Stuart Heath swapped from CCFLs to LEDs with side-illuminated acrylic waveguides.
Moving away from fibre mats meant that production could be on CNC machines.
"CNC is really the only viable option for small volumes," said Heath. "It is easy to get small to medium volumes of custom shaped LCDs. It is harder to get custom waveguides to backlight them.
Lack of LEDs with suitable coupling characteristics persuaded Stuart Heath designed one especially for waveguides, which he had manufactured.
"The first custom LED allowed to him to design more LEDs, for example, a half-diffused LED because there was no such thing on the market," said William Heath.
The firm continues to specify and offer specialist LEDs. " We're not interested in buying and selling commodity LEDs," said Heath.
OMC's next step was to add LED accessories to its range – like clip-on light pipes couple a surface mount LED to the front panel of a product.
"We looked at optical mouldings. For example, the illuminated rings around push buttons and letter shapes," said Heath. "These are almost 3D backlights, you have to injection mould them."
Which meant investing in injection moulding equipment, and the chance to mass-produce.
"We do a range of standard parts and bespoke parts," said Heath. "As they are moulded, it has to be thousands in a run rather than hundreds."
A neon indication replacement, the firm's first retrofit lighting product, came in 1999, closely-followed by high-brightness lighting replacements.
"White light sources appeared in 2003, and by 2004 we were really able to make white light sources with good level of brightness," said Heath. "There were no applications amongst our traditional customers, but they did open avenues in illumination."
In 2005, OMC made its first LED replacement for a fluorescent fitting.
"The original device is still in the lab ceiling," said Heath.
They cost 100x more than a traditional tube and efficiency was 25-30 lm/W – less than a fluorescent – "but for specific applications there was a market – where you needed long life and fast switch-on", said Heath.
Speed, added to compatibility with low-voltage vehicle supplies, meant there was a market for a £500 twin fluorescent fitting replacement that was bright enough to illuminate a room.
"Military vehicles in a war zone have to have the light off fast when the door is opened, then back on to full brightness when the door is closed," said Heath.
Next came what OMC called building block products, now generally known as 'light engines', easy-to-use light sources that could be integrated into luminaires by firms without specialist LED knowledge.
"We do as much work as possible for the customer. We will suggest the most suitable light engine for customer, we tell them how to d rive it, and we tell then how to heatsink it," said Heath.
Early examples, whose descendents are still in production, were 12V linear LED strips with in-built current limiting.
"We sell them to makers of high-end furniture, makers of CNC machinery, and makers of signs," said Heath. "There are many sources of LED strips. We focus on high-end applications with decent brightness."
Today, light engine offerings include customisation right down to the LED chip.
"We specify which die is used in a device and the size of the die. They can be cut to our size," said Heath. "If our customer needs to reduce cost and is not so bothered about efficiency, we can cut down the die size. If high efficiency is key consideration, or the product is to be used in a hot environment, we can use large die."
As an example of what can be achieved with large die, Heath cites a 130 lm/W light engine – measured with the PCB at 60°C.
To build relationships in the lighting industry, a lighting lab was built in 2006, and has subsequently been expanded.
"We realised we needed to specify lighting equipment in lumens and lux – the language of lighting industry – not millicandelas," said Heath. "We also invested in thermal equipment. Even the concept of having to remove heat was difficult for the lighting industry."
And the labs attract business.
"If a customer sends us a housing, we can tell the customer exactly what LED power dissipation they can design to. People find this quite helpful," said Heath.
OMC has 30-60 staff, depending on workload. Is it hard to fill vacancies in Cornwall?
"As a company, we have low staff turn-over. Average service length is well in excess of a decade so a lot of expertise remains with the company, and we have a lot of proprietary processes and skills. When the company grows, we do a lot of in-house training," said Heath. "There are very good graduate schemes in Cornwall, one is Unlocking Cornish Potential. We tend to recruit physics graduates – there are three in company at the moment. Physics tends to be the best grounding and we are a company grounded in physics. My grandfather, Stuart, and I had physics backgrounds."