Hans Rohrer, chief executive of UK semiconductor maker Zetex, is this week's victim of EW's five questions to industry leaders.
Are 50 per cent gross margins in the analogue business a reasonable expectation?
Defining a figure for typical gross margins in a sector which covers such a varied range of product types isn't straight forward. What you can say with certainty is that we will continue to see higher margins created through analogue-rich semiconductor products.
Analogue semiconductors are becoming far more critical to end product success, in itself a factor which adds further 'tangible' positive value.
Can the analogue market continue to outpace the overall semiconductor market?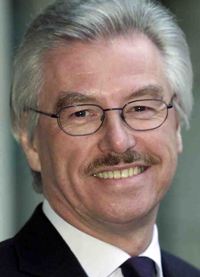 Hans Rohrer
        
I believe the success of end products will depend more and more on the real 'user experience'. Whether a product looks good, feels good, is easy to use or provides the longest battery life – these are the factors which will make the difference.
How do you find, train and retain analogue IC designers?
You have to do a number of things. We are in the fortunate position of having a core of good analogue designers, which is the foundation from which to grow and develop your own talent. Some of our senior people are also lecturing at universities and we are building on that by bringing in young talent and developing it.
I'm convinced that in Europe, and particularly in the UK, there is more talent than in other parts of the world, including Asia. This has quite a bit to do with the strength, structure and the roots of the semiconductor industry in Europe.
How important is proprietary process technology in the analogue business?
Proprietary technology will continue to have a role to play in the analogue world, but overall its importance will continue to decline as the leading foundries continue to improve characterisation of their process with analogue functions in mind.
Do serial CEOs have advantages over CEOs which have come up through the ranks of a company?
To use a great British saying, I guess it's a case of 'horses for courses' and depends whether you need a CEO to turn a company around or whether you need him to develop a company further.
I do not believe that a CEO coming up through the ranks of a company is likely to turn a company around, at the same time I can see how a CEO coming from inside would have certain initial advantages.
www.zetex.com
The A-Z of Q5 interviews
The alpha and omega of electronics
industry interviews
A – ARM chairman, Robin Saxby
B – BSI manager, Simon Bircham
C – CamSemi CEO, David Baillie
D – Design LED, James Gourlay
E – Ensilica, Kevin Edwards
F – Future MD, Danny Miller
G – GSPK Design CEO, P. Marsh
I – Icera CEO, Stan Boland
J – Jennic CEO, Jim Lindop
L – Lumileds, Steve Landau
M – Mentor CEO, Walden Rhines
N – NI president, J. Truchard
O – OLED-T CTO, P.K. Nathan
P – ProVision CEO, David Sykes
Q – QinetiQ, Stephen Lake
R – Rambus CEO, Harold Hughes
S – SETsquared, Simon Bond
T – TI CEO, Rich Templeton
U – University of Southampton
W – Wolfson CEO, Dave Shrigley
X – XMOS CEO, James Foster
Z – Zetex CEO, Hans Rohrer