Stan Boland is CEO of wireless chip start-up Icera. He was previously CEO of Element 14, which was sold to Broadcom in 2000 for around £400m.
What are the benefits of being based in Bristol?
Well, we're in Bristol mainly because we know we can attract and then retain great silicon and communications engineers.
It's also one of only four or five cities in the UK which is both a good size and yet is still pretty. I'm told it also has a good nightlife but Icera people are far too thrilled with work to need this.
Do you plan to sell Icera or float it?
Our plan is an IPO, probably 2008, and then to continue to build Icera as Europe's largest (but pure-play, open) wireless chip company.
Over a short space of time, we think this allows Europe to build a large public company, a bit like Broadcom or Qualcomm. Except pure-play wireless and open.
How can a start-up realistically challenge the might of the big firms in a market as complex as mobile comms?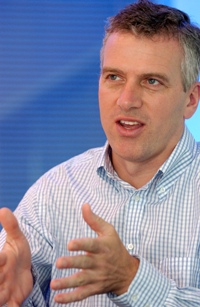 Stan Boland
          
It's well-understood that big companies are fine at managing steady-state businesses or incremental innovation, but very bad at spotting and implementing disruptive innovation.
Fortunately our market is changing very quickly and the big company approach is badly-suited to this market, creating opportunity for us to disrupt. Oh, and it takes a lot of money too. And great, great engineering.
What advice would you give to budding entrepreneurs planning their first start-up company?
I can only say what's worked for us. Gather a small team of two to four people together to figure out the outline of the technology and target. Invent a succession of short customer pitches assuming you can deliver the technology, showing clearly the gains, benefits, costs etc and try it out. Think broadly and try out different markets, technologies and business models.
Get in front of as many potential customers with these pitches as possible and then listen hard to what they say and revise the proposition. Hire only great people and make sure you are fair in roles, stock allocation etc. Be passionate about the business and don't think too small.
What are the main problems facing the widespread take up of mobile TV?
We think this is a big opportunity. Some issues to solve include the release of consistent spectrum in each region, clear convergence on standards (eg DVB-H, DMB, ISDB-T, FLO?) and some specific issues like a several second latency on changing channels in DVB-H. In the meantime, we see opportunity for broadcast mobile TV to be delivered on current technologies using MBMS.
The A-Z of Q5 interviews
The alpha and omega of electronics
industry interviews
A – ARM chairman, Robin Saxby
B – BSI manager, Simon Bircham
C – CamSemi CEO, David Baillie
D – Design LED, James Gourlay
E – Ensilica, Kevin Edwards
F – Future MD, Danny Miller
G – GSPK Design CEO, P. Marsh
I – Icera CEO, Stan Boland
J – Jennic CEO, Jim Lindop
L – Lumileds, Steve Landau
M – Mentor CEO, Walden Rhines
N – NI president, J. Truchard
O – OLED-T CTO, P.K. Nathan
P – ProVision CEO, David Sykes
Q – QinetiQ, Stephen Lake
R – Rambus CEO, Harold Hughes
S – SETsquared, Simon Bond
T – TI CEO, Rich Templeton
U – University of Southampton
W – Wolfson CEO, Dave Shrigley
X – XMOS CEO, James Foster
Z – Zetex CEO, Hans Rohrer