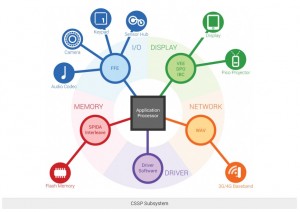 Called the Mobeam Barcode Transmit Proven System Block, it is based on technology from Mobeam,.
Laser scanners cannot read barcodes from a typical smartphone display.  Mobeam's technology addresses this issue by employing the smartphone's Infrared LED to "pulse" the bar code to the laser reader.
Smartphone users get additional value by having digital content delivered to their phones and then being able to use associated coupons, tickets and gift cards at POS terminals.
Retailers and consumer packaged goods producers get additional value through enhanced analytics, targeting and tracking of their customer and product interactions.
QuickLogic's IP block enables Mobeam in its CSSPs. This means that Smartphones integrating these CSSPs may be used at laser scanning point of sale terminals worldwide.
OEMs can add additional blocks to the CSSP to provide their products with greater hardware differentiation and to reduce BOM costs and PCB space requirements.