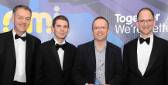 It won for "its low-cost PC platform and its potential to develop a generation of creative and curious individuals with a deeper understanding of technology – both hard and software", said the NMI.
Foundation founder and trustee Robert Mullins received the award from NMI CEO, Derek Boyd who said: "Nurturing young talent in electronic and software engineering is essential for the future of the UK's electronic systems industry; and the stripped-down, low-cost Raspberry Pi enables anyone with a curious mind, regardless of background to develop these skills from an early age."
This is the 10th anniversary of the awards, which are intended to "promote practices conducive to the long-term health of the UK's electronic systems community".
The Raspberry Pi is a £25 ARM based PC, developed and manufactured in the UK with the intention of stimulating the teaching of computer science in schools. It was launched in July 2012 with a large ecosystem evolving and over 500,000 units shipped in its first three months with the 1 million mark anticipated before Christmas.
Other awards were:
Innovation – Oxford Digital
Innovation in Power Electronics – Supply Design
Low Power Green Design – ST Microelectronics
Manufacturing Site – International Rectifier
Manufacturing Supplier – Compugraphics International Limited
Product Excellence – Wolfson Microelectronics
R&D Achievement – Freescale Semiconductor Inc
Semi360 – XMOS
UKESF Scholar – Rares-Mihai Popa (Edinburgh University)
Young engineer – Kevin Moore (ST Microelectronics)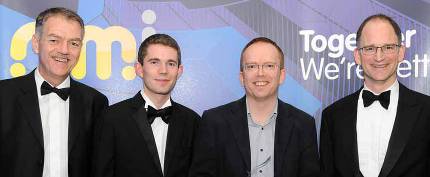 Raspberry Pi Foundation founder, Robert Mullins, receives the NMI award for advances in skills, training and development with Raspberry Pi's Daniel Bates, NMI CEO Derek Boyd and Neil Dickins from award sponsor IC Group.