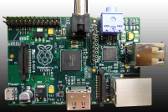 To date Raspberry Pi has only been manufactured in China.
Sony's manufacturing site in South Wales will initially produce over 300,000 units for sale globally and is expected to create up to 30 additional jobs.
"When it came to reviewing our manufacturing strategy we were always keen to bring the production of the Raspberry Pi to the UK. From the outset Sony UK Technology Centre demonstrated its enthusiasm for the product as well as its expertise in manufacturing," said Mike Buffham, global head of EDE at Premier Farnell.
Premier Farnell has been selling the educational system and development board since February this year through its brands of Farnell element14 in Europe, Newark element14 in North America and element14 in Asia Pacific, and more recently through subsidiaries CPC in the UK and MCM Electronics in the US.
"The Raspberry Pi was built to develop young people's skills in computer programming and electronic engineering; we had always intended and hoped that the Raspberry Pi would also be manufactured within the UK," said Eben Upton, Co-Founder of the Raspberry Pi Foundation.
"By bringing the production of a UK product back into the country alongside its development and distribution, we can help support our economy and demonstrate the capabilities the UK has in terms of technological innovation, invention, and manufacturing," said Upton.
Sony UKTec will invest in additional equipment to fulfil the order requirements, this will include additional automated circuit board equipment and double side reflow machinery.
The site will be extending its manufacturing process capability to include a technique called package-on-package. This process allows the processor and memory to be stacked on top of each other, reducing the PCB footprint and the distance that high-speed signals need to travel, improving overall reliability.
"We are also able to demonstrate our manufacturing capabilities, delivering high-quality technology products for UK companies," said Steve Dalton OBE, managing director of Sony UK Technology Centre.