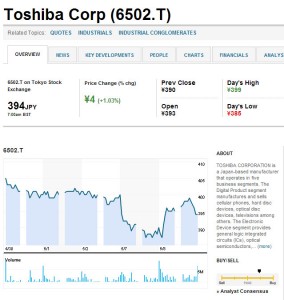 Led by flash memory sales, Toshiba's sales increased to $63 billion in the financial year to the end of March for a profit of $2.8 billion. It expects 14% growth in profits this financial year.
Toshiba's components and electronic devices business had sales of $16 billion for a record operating profit of $2.3 billion. It expects to raise this to $3.2 billion in the current financial year accounting for half the corporation's total profits.
The components business sales were the second highest of Toshiba's business units – second to the energy division which includes nuclear reactor sales which had revenues of $18 billion.
Asked if it's putting in a bid for Alstom, currently under offer from GE,  with Siemens contemplating a bid this month, Toshiba says: "We can't deny the possibility of something happening in this area, but in regard to Alstom there is nothing concrete."
On the wider economy Toshiba sees modest gains. 'Although there are concerns both in overseas and in Japan, including a bad debt problem in China, a weak recovery in the EU and emerging economies and sluggishness in Japan due to the increase in consumption tax, the global economy is expected to record higher growth than in FY2013,' says Toshiba