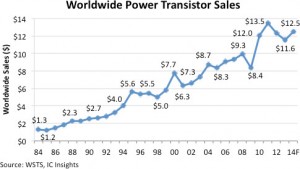 For more than three decades, power transistors have been the growth engine in the $21 billion commodity-filled discrete semiconductor market, handling the vital job of controlling, converting, and conditioning currents and voltages in an ever-expanding range of electronics—including battery-operated portable products, new energy-saving equipment, hybrid and electric vehicles, "smart" electric-grid applications, and renewable power systems.
However, the power transistor marketplace has uncharacteristically struggled for the past two years, posting the first back-to-back annual sales declines in more than 30 years (-8% in 2012 and -6% in 2013) due to delays in unit purchases by cautious equipment makers responding to economic uncertainty and price erosion from excess production capacity.
The two-year losing streak for power transistors is expected to end in 2014, with worldwide sales rebounding 8% to $12.5 billion.
IC insights forecasts power transistor sales rising 9% in 2015 to $13.7 billion, topping the current annual peak of about $13.5 billion set in 2011.
With economic uncertainty easing and end equipment sales gaining strength, the power transistor market is projected to increase by a compound annual growth rate (CAGR) of 6.4% between 2013 and 2018, reaching $15.7 billion in 2018.
The projected rate of annual sales growth is more than double the 3.0% CAGR in the previous five years (2008-2013), when power transistors and nearly all other semiconductor categories were pulled down by the financial-meltdown recession and lingering economic weakness after the strong 2010 recovery.
The 2014 rebound in power transistors will be led by low-voltage MOSFETs (up to 40V), high-voltage MOSFETs (over 400V), and insulated-gate bipolar transistor (IGBT) products that are often used in high-current applications and systems operating in rugged conditions, such as in vehicles, lighting equipment, air conditioners and heaters, motor drives, factory equipment, and industrial gear, such as welders.
IC Insights expects to see 2014 sales growing 9% in low-voltage MOSFETs (to nearly $2.8 billion), high-voltage MOSFETs (to about $1.8 billion) and IGBT power modules (to $2.7 billion).
Even bipolar junction power transistors, which have been around for more than five decades, are expected to see a 6% increase in sales to $854 million in 2014 after dropping 10% in 2013.
Since power transistors cannot be efficiently merged into integrated circuits, it stands to reason that sales growth in power transistors has nearly matched the CAGR of ICs since the early 1980s.
Between 1984 and 2013, worldwide sales of power transistors have grown by a CAGR nearly 8% compared to an annual average of 9% for ICs.
IC and power transistor sales are expected to rise by a CAGR of about 6% in the next five years.
Power transistors are expected to represent about 59% of the projected $26.7 billion in total discrete semiconductor sales in 2018 versus 56% of the $20.7 billion market in 2013.
Strong demand for power transistors will continue to be fuelled by the steady growth in battery-operated portable products, global efforts to reduce consumption of electricity with new energy-efficient power supplies in equipment, earth-friendly solar and wind power systems, and ongoing efforts to improve plug-in electric and hybrid vehicles.