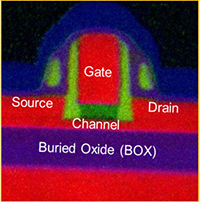 Samsung's licence is for 28nm FD-SOI which ST has running at Crolles. Samsung intends to be running FD-SOI 28nm wafers in Q1 2015.
"Building upon the existing solid relationship between ST and Samsung within the framework of the International Semiconductor Development Alliance (the IBM Common Platform), this agreement further strengthens our cooperation by extending it to 28nm FD-SOI, while expanding the ecosystem and augmenting fab capacity for ST and the entire electronics industry. Moreover, the agreement confirms and strengthens further the business momentum that we have experienced on this technology during the past quarters through many customers and project engagements in our Embedded Processing Solutions segment" says ST COO Jean-Marc Chery, "we foresee further expansion of the 28nm FD-SOI ecosystem, to include the leading EDA and IP suppliers, which will enrich the IP catalog available for 28nm FD-SOI."
ST has got 17 commercial ICs designed in FD-SOI three of them ASSPs and 14 of them ASICs. FD-SOI is expected to be the go-to process for ICs requiring low-power, particularly in consumer, networking and mobile applications, while finfet processes will be the go-to process for high performance ICs in servers.
"We want FD-SOI to be the technology of choice for IOT," says Chery, "networking has already adopted FD-SOI."
The Samsung and ST foundry relationship goes back five years for bulk CMOS processes currently at 32nm. "We have enjoyed five years of respect and mutual trust," says Chery.
"This is an ideal solution for customers looking for extra performance and power efficiency at the 28nm node without having to migrate to 20nm," says Samsung evp Dr. Seh-Woong Jeong, "28nm process technology is a highly productive process technology and expected to have a long life span based on well-established manufacturing capabilities. By adding FD-SOI to our technology portfolio, Samsung provides a full-spectrum of 28nm process offerings for our customers' success."
As 28nm FD-SOI designs are compatible with bulk CMOS 28nm designs, and customers for bulk CMOS can switch to FD-SOI very easily to get the extra performance.
The ST-Samsung foundry agreement is not exclusive. Other licensees for FD-SOI are possible. Globalfoundries has a licence but has not yet put the process into production.