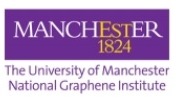 Seungmin Cho, principal research engineer and group leader at Samsung will present the progress his team is making in developing flexible touch screens at the upcoming Graphene Supply, Application & Commercialisation 2014, which takes place at the University of Manchester on 12th-13th June.
Touch screens could be an important application for the high speed semiconductor technology, but this relies on a method of scaling up the production of graphene which is still only a research lab technology.
Samsung has developed a method to synthesise large areas of the material on a semiconductor, using a hydrogen-terminated germanium buffer layer.
Cho's presentation will assess the availability of graphene and the viability of its flexible and transparent properties for use in consumer electronics, compared to other materials such as ITO.
Mechanical robustness and the potential to modify properties through doping will also be examined.
The conference in Manchester will also address technology and business issues important for the commercialisation of graphene.
Speakers are from IBM, Nokia, Airbus, Thales with academics from Sweden's Chalmers University of Technology along with UK-based universities of Manchester and Durham.