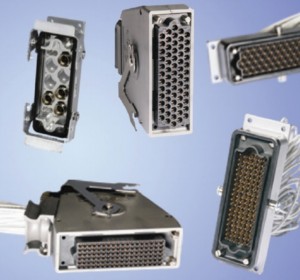 The Hypertac, Sabritec and Interconnect Devices (IDI) products will be sold under a new brand name – Smith Connectors.
"The Hypertac brand is well-known in the UK and Europe for its contact technology, but our other brands are not so well known in the wider connector market," said Bill Henderson, industry director, aerospace and defence at Smiths Connectors.
"The single brand will give greater market exposure to all our product technologies," said Henderson.
This is more than a simple name-change, the company is integrating the specialist contact technologies from different businesses in new combination products.
"Internal engineering barriers have disappeared," said Henderson. "We are combining the Hypertac hyperboloid contact technology and IDI's spring probe contacts in a single connector for the first time."
A range of high-reliability modular PCB connectors, which will be demonstrated for the first time at next month's Paris Airshow, is based on hyperboloid contacts with a choice of options for data and power.
Hyperboloid contact design, pioneered by Hypertac, uses hyperbolically arranged contact wires, which align themselves elastically as contact lines around the pin, providing a high number of linear contact paths.
For connection to the PCB, there is a high speed 10Gbit/s interconnect design based on the spring probe contacts developed by IDI business in the US.
IDI's spring probe design is based on precision spring-loaded contacts rather than pin-in-socket. This supports high-reliability contacts in a connector with a profile of just 2mm.
According to Henderson, a customer in France has already tested the performance of the spring probe contacts for high-reliability aerospace designs.
"The first application of this technology is likely to be in satellite design," said Henderson.
The company has prototypes and plans a full product launch later in the year.
Other new products include a Micro-Quad rack connector which incorporates a machined contact version of the traditionally wire-based hyperboloid contact design. This will support much smaller pin diameters in micro-connectors.
There is also a new push-pull circular connector which uses spring probe contacts rather than hyperboloid contacts, which reduces the profile of the whole connector.
"These are part of our plans to introduce a number of new products this year which will bring spring probe technology to the defence and aerospace markets," said Henderson.
"Our intention is to offer a broader range of products, with greater market focus in Europe," said Henderson.