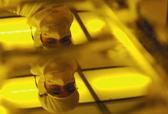 SOITEC of France reckons that SOI wafers will represent a quarter of the 2017 28nm wafer TAM of 4-5 million 300mm wafers.
SOITEC currently has the capability to deliver 100,000 wafers per year, but is not inclined to divulge its current level of wafer shipment.
Asked if capacity could to be ramped to meet the expected increased demand, SOITEC COO Paul Boudre, replies:  "We could build very quickly enough capacity to make 800,000 wafers a year."  Asked to define 'very quickly', Boudre replies: "Six months."
That would take us very nicely to Q1 2014, when Samsung is expected to have its FD-SOI line up and running.
In addition, SOITEC has a factory available in Singapore. It is not fully equipped – the clean-room facilities are 20% installed – but it could be put into production in 9 – 12 months with a productive capacity of 1 million wafers a year.
Asked if higher volume will bring down the current $500 cost of a 300mm SOI wafer, Boudre replies "you know how this industry works." However Boudre declined to indicate any metric as to how wafer cost might scale with volume.
Apart from its own production facilities, SOITEC has licensed its technology to Sun-Edison and has a second source agreement with SEH. These are non-exclusive. "We can look for other licensees", says Boudre.
Asked if there was truth in the rumours that SOITEC is engaged in licensing or second-sourcing talks with the Chinese, Boudre said "No."
SOITEC is now in a position to ship SOI wafers for 20nm designs.