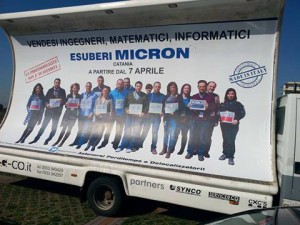 Reports say that ST and Micron battled over who should take responsibility for the botched effort by Micron to sack 40% of its Italian workforce.
Interventions by EC vice-president Antonio Tajani, Italian Prime Minister Matteo Renzi, Italian President Giorgio Napolitano, ST founding CEO Pasquale Pistorio and the Mayors of Catania and Messina have prevailed on ST and Micron to try and find a satisfactory solution to the high profile public dispute.
Micron has offered 24 months pay to those who leave voluntarily although this is effectively reduced to 20 months because of a "pre-warning" period of four months which is deducted.
Micron is now under pressure to re-locate more of the 419 or increase the terms under which they can leave.
The 419 are clearly dissatisfied with what Micron and ST have negotiated and feel they are simply each trying to find the least expensive option for themselves rather than try and engineer the best possible outcome for the 419.