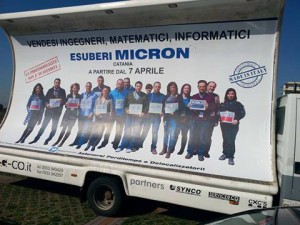 ST has a responsibility to the researchers because they were were employed by ST before being forced into the Numonyx flash memory joint venture with Intel which was later sold to Micron..
The Italian Prime Minister Matteo Renzi sent his personal aide to a meeting in Rome yesterday at which it was expected there would be a final resolution to the dispute.
The President of Italy and ST founding CEO Pasquale Pistorio have expressed solidarity with the Micron researchers and EC Vice President Antonio Tajani has written to the President and the CEO of Micron asking them to delay the sackings until talks have been held.
The 419 workers represent 40% of Micron's Italian workforce. They were sacked as part of a global workforce reduction of 5% which discriminated heavily against the Italian workforce.
ST has said it will take back up to 150 of the workers.
Micron has now offered that those who leave voluntarily will get two years salary as a pay-off.
Micron has also now offered a 20,000 euro payment to those workers willing to be relocated.
However this still leaves about 200 people who have no obvious future, and it is these peoples' fate which will be decided between ST and Micron today.
On Wednesday, talks between Micron, the Italian government, the sacked workers and the unions will resume in another attempt to try and resolve the problems caused by this affair.