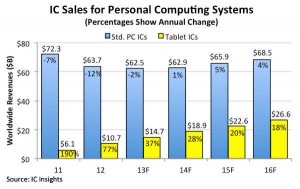 In 2016 the market for tablet ICs will hit $27 billion.
Ongoing weakness in notebook personal computers will be offset by stronger unit growth of touch-screen tablets—especially smaller "mini" systems with 7- and 8-inch displays—resulting in a 4% increase in IC sales for all types of personal computing products this year.
Combined IC sales for standard PCs, tablets, and new cloud-computing portables are forecast to reach $77.6 billion in 2013 compared to $74.9 billion in 2012, when the total fell 6% from $79.6 billion in 2011.
IC Insights is now forecasting a 2% decline in integrated circuit sales for keyboard-equipped standard PCs (desktops and notebooks) to $62.5 billion in 2013, following drops of 12% in 2012 and 7% in 2011.
IC sales for standard PCs are slumping primarily due to slowing shipments of notebook computers, which are being superseded by tablets in consumer computing markets worldwide.
IC sales for tablet computers are forecast to rise 37% to $14.7 billion in 2013 after climbing 77% in 2012 and 190% in 2011.
IC Insights reckons 190 million tablets will ship in 2013, which would be a 62% increase from 117 million in 2012.
The forecast for standard PC shipments has been lowered to 347 million units in 2013, which is slightly less than a 1% increase from 344 million units in 2012.
IC Insights reckons tablet unit shipments will overtake desktop PCs in 2013 (190 million tablets versus 150 million desktop PCs).
It expects tablet shipments will exceed notebook unit volumes in 2014, but the gap has been increased—253 million tablets versus 210 million notebook PCs next year.
IC Insights believes it now takes the sale of nearly 2.3 tablets to roughly equal the IC dollar value of one notebook PC.
The average IC content of a tablet computer is estimated at $77.50.  Nearly all tablets today are made with 32-bit microprocessors, which are often similar to application processors found in smartphones.
The vast majority of tablet processors are built with RISC cores licensed from ARM in the UK instead of the x86 MPU architecture used in microprocessors sold by Intel and Advanced Micro Devices for standard PCs.
ARM-based tablet microprocessors have much lower average selling prices (ASPs) than x86 MPUs—often 20% or less than the ASPs of PC processors.  Most tablet processors are also system-on-chip (SoC) designs with integrated graphics and many system-level functions, which reduce the need for a number of ICs and chipsets that have populated notebook PC motherboards.
Tablets also contain less DRAM memory than standard PCs, but they use NAND flash for internal storage instead of hard-disk drives.
The outlook for tablet IC sales has been increased with revenues projected to rise by a compound annual growth rate (CAGR) of about 25% between 2012 and 2016, reaching $26.6 billion in the final forecast year.
IC sales for standard PCs are now expected to grow by a CAGR of nearly 2% in the four-year period to $68.5 billion in 2016.  IC sales for new cloud-computing portable systems—such as Google's Chromebook platform—are forecast to increase by a CAGR of 41%, from about $500 million in 2012 to $1.8 billion in 2016.
These Internet-centric portables must be connected online to the web to fully function.
Low-cost cloud-computing portables are expected to be a small-but-fast growing market niche, reaching 27 million systems in 2016 compared to 5 million in 2012, according to IC Insights' new market update report.