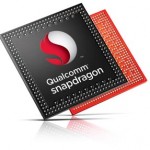 The smartphone applications processor market grew 31% year-on-year growth to reach $4.9 billion in Q3 2013, and the baseband processor market grew 10.3%, says Strategy Analytics.
Qualcomm, Apple and MediaTek took 80% of the revenue, and Qualcomm, Apple, MediaTek, Samsung and Spreadtrum had the top-five by revenue.
Qualcomm continued its lead with 53% revenue share, followed by Apple with 18% share and MediaTek with 10% share..
"Samsung ranked number four in smartphone applications processors in revenue terms. Samsung's Exynos 5 Octa so far has not attained the same level of success as its predecessor, the Exynos 4 Quad," says Strategy Analytics' Sravan Kundojjala, "Samsung's latest LTE-integrated Exynos chip, which started shipping from Q3 2013, can enable Samsung to go after the high-volume mid-range market in 2014 and thus regain some volume share.
"Qualcomm continued its lead," says Strategy Analytics' Stuart Robindon, "the latest Snapdragon 800 family of chips gained strong traction in second half flagship smartphones from Samsung, LG, Sony, Xiaomi and others."
In tablet apps processors, the market grew 30% year-on-year to reach $1.2 billion in Q3.
Apple, Qualcomm, Intel, Samsung and MediaTek were the top five suppliers. Apple maintained its dominance in the tablet applications processor market with 40% revenue share in Q3, followed by Qualcomm with 13% revenue share and Intel with 8%.
"Qualcomm rose to the number two position in tablet applications processors in Q3 in revenue terms, thanks to its Google Nexus 7 2013 and Amazon Kindle Fire HDX design-wins," says Kundojjala, "this is quite a dramatic change in position as the company hadn't even made it to the top-five just two quarters ago. The non-Apple tablet applications processor market leadership continues to be a game of musical chairs and previously we have seen NVIDIA, Samsung and Texas Instruments taking the lead at some time in the past few years. Companies are extremely reliant on their latest design wins and Strategy Analytics is advising chip vendors that these dynamics pose a challenge and an opportunity for them in the non-Apple tablet applications processor market."
Stuart Robinson comments: "During Q3, Intel, Marvell, MediaTek and NVIDIA all made progress and registered double-digit sequential growth in their tablet applications processor shipments. Strategy Analytics believes that these companies have the potential to continue to improve their tablet applications processor share in the next few quarters."
The cellular baseband processor market grew 10.3% year-over-year to reach $4.9 billion in Q3, with Qualcomm grabbing two thirds of the revenues.
Qualcomm, MediaTek, Intel, Spreadtrum, and Broadcom captured the top-five revenue share spots in the cellular baseband processor market in Q3. Qualcomm maintained its dominance with 66% revenue share, followed by MediaTek with 12% revenue share and Intel with 7% revenue share.
"Qualcomm's baseband revenue share increased to 66% in Q3, thanks to its stranglehold on the LTE baseband market," says Kundojjala, "over the last four years, Qualcomm spent $14 billion on R&D, which helped the company to gain over 95% revenue share in the LTE baseband segment. While Qualcomm's LTE baseband technology and market share leadership are unquestioned, we believe that certain competitors' products are production-ready and have the potential to take share from Qualcomm in 2014, especially in the mid-to-low tier."
"Strategy Analytics believes that Broadcom has the potential to emerge as a key LTE alternative to Qualcomm in 2014," says Robinson, "Broadcom is still a minor player in the baseband market and cannot afford any missteps as the year 2014 is shaping up to be an important one for the company. Only a successful LTE execution in 2014 will secure the long-term outlook for Broadcom's Mobile & Wireless business division."
"Low-cost Chinese baseband suppliers RDA Microelectronics and Spreadtrum, both of which recently received buyout offers from state-owned Tsinghua Unigroup, together ranked number two in baseband unit share terms in Q3 2013. With its low-cost advantage and strong financial back up from Tsinghua, RDA and Spreadtrum's combination has the potential to take on global players such as Qualcomm," says Strategy Analytics" Christopher Taylor.