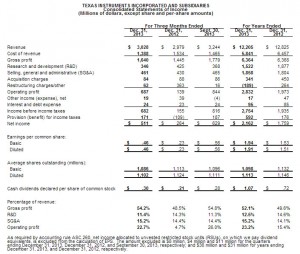 The company is to cut 1,100 jobs for which it will take a charge of $80 million, $49million of which was taken in the Q4 accounts and $30 million of which will be accounted for in the current quarter.
TI expects revenue of $2.83 billion to $3.07 billion in Q1.
"Our business model continues to generate strong cash flow from operations," says CEO Rich Templeton, "free cash flow for the full year of 2013 was $3 billion, or 24% of revenue, consistent with our target of 20-25%. We returned $4 billion, or 136% of free cash flow, to shareholders in 2013 through dividends and stock repurchases. Our strategy to return to shareholders all free cash flow not needed for debt repayment reflects our confidence in the long-term sustainability of our business model."
TI has $3.8 billion of cash and short-term investments.