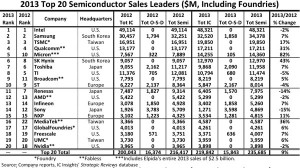 The acquisition of Elpida propelled Micron five spots up the table into into the top 5.
Hynix took advantage of the 32% surge in the DRAM market to climb two places into the 6th position.
Broadcom moved into the top 10.
The Top 20 were:
$bn
Intel 48.3
Samsung. 34.4
TSMC. 19.8
Qualcomm. 17.2
Micron 14.4
Hynix. 12.9
Toshiba 11.9
TI 11.5
Broadcom. 8.2
ST. 8.0
Renesas 7.9
AMD. 5.3
Infineon 5.2
Sony 4.9
NXP 4.8
MediaTek 4.6
GloFo 4.3
Freescale 4.0
UMC 3.9
Nvidia. 3.9
MediaTek jumped up six positions to 16th place and into the top 20 ranking for the first time.
MediaTek's application processor shipments for smartphones reached over 200 million units last year, about double the 108 million units the company shipped in 2012. With MediaTek and MStar expected to merge in 2014, the annual post-merger sales for MediaTek should be over $6 billion – enough to lift the company into the 12th spot in the 2014 ranking.
Avago is also climbing. After buying LSI Corp., the combined semiconductor sales of the two companies is likely to be well over $5 billion this year, which could propel Avago from its 27th 2013 ranking to as high as 13th in 2014.
The fastest growers among the top 20 were:
% growth
Micron 82
Hynix 43
MediaTek. 36
Qualcomm 31
TSMC 17
NXP 11
Freescale 7
Infineon 7
Toshiba. 7
Samsung. 7
GloFo. 6
UMC 6
Broadcom 6
Droppers were Fujitsu which fell five places to fall out of the top 20 ranking in 2013, and Renesas which fell to 11th place last year from the 7th position it held in 2012.
The top 20 semiconductor companies' sales increased by 9% in 2013 as compared to 2012, which was more than twice the 4% growth rate for total worldwide semiconductor market last year.
The bar to joining the top 20 keeps rising. It took total semiconductor sales of about $3.9 billion to make the top 20 ranking in 2013.