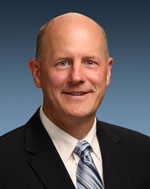 'Toshiba will expand Fab 5 to secure manufacturing space for NAND flash memories fabricated with next generation process technology and for 3D memories,' says the company, 'construction will be completed in summer next year.'
3D NAND involves stacking memory cells on top of eachother in a similar way to stacked cell DRAM.
NAND market leader Samsung announced earlier this month that it was already producing vertical NAND but it is not thought to be in high volume production.
The third largest NAND producer, Micron, is waiting for 3D NAND to become commercially feasible.
"The key challenge is going to be cost," says Glen Hawk, vp of NAND Solutions at Micron (pictured), "we're not going to do it until it's cost-effective – and it needs to be capable of dozens of layers before it's cost-effective. The debate is about how many hundreds of layers you can stack – nobody knows how many yet."
Samsung's first 3D NAND chip, a 128Gbit memory, has 24 layers.
The beauty of stacked NAND is that it removes the need for further scaling.  When planar NAND ends, the next generation of NAND –  the first generation of 3D vertical NAND – will use a larger geometry process.
"With the vertical NAND stacked cell you can have a more relaxed geometry," says Hawk, "it's the first time in my career that we're selling things that are bigger and cheaper and better all at the same time.  Vertical NAND has better reliability and better performance than planar NAND."
The problem looming for NAND's future viability was that NAND cells have been running out of electrons as they scale down the micron trail. With a few tens of electrons per cell at sub-20nm, NAND behaviour can become unpredictable. Vertical NAND takes that number back up to hundreds of electrons per cell.
"Vertical NAND is not limited by litho – not limited by fine lines – but by the device physics of the cell," said Hawk. With quantum effects hitting structures made on 10-20nm processes (where NAND currently is) vertical NAND is the life-saver for NAND technology.
Hawk reckons there will be two more generations of planar NAND and then vertical NAND will come onto the market towards the end of 2015.
"We're at least two years away from product," says Hawk, "two years away from it being as cost-effective as planar NAND. When we transition from planar to 3D, the process is very different and the equipment is different – it's a huge cost."