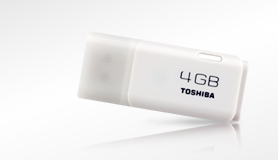 Called TransMemory drives, they come in capacities of 8GB (THNV08DAIBLK(6), 16GB (THNV16DAIBLK(6), 32GB (THNV32DAIBLK(6) and 64GB (THNV64DAIBLK(6). Shipment of the pen drives in black will start before the end of June, with other colours to follow thereafter.
Measuring 55mm by 18mm by 8mm, the drives are powered by a USB port and are fully backward compatible with Hi Speed USB 2.0 and USB 1.1 standards.
The TransMemory drives have been optimised for use with Mac OS X 10.6.6 and higher, Windows Vista, Windows 7, Windows 8, Windows 8.1.
The drives are for storing music and video and for high-speed data transfer between digital products.
Image: Toshiba TransMemory