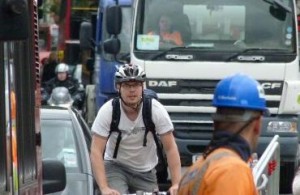 The aim is to reduce the risk of collisions between HGVs, pedestrians and cyclists – TfL has a target to the number of people killed or seriously injured on London's roads by 40% by 2020.
Evaluation of blind spot technology will be carried out by the Transport Research Laboratory (TRL).
Findings will be used to create detailed performance criteria, such as the distance objects can be detected, how easily the equipment detects vulnerable road users, and how reliable the equipment is.
TRL has contacted more than a dozen UK companies inviting them to take part in the evaluation, and to become accredited suppliers.
Cycle Alert is one such safety system which has three parts: a unit fitted to every bicycle that sends out a signal periodically, sensors that are spaced around every HGV, and a dashboard display for each HGV cab.
Also, radar-based technologies are to be trialled on London Buses during the summer.
Companies wishing to submit technology to the TRL trials should email freight@tfl.gov.uk
More information on the work TfL is doing to make freight deliveries safer is available
More information about TfL's Construction Logistics and Cyclists Safety can be found here.
The Standard for Construction Logistics: Managing Work Related Road Risk can be found here.