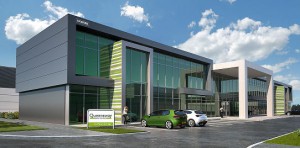 The facility will be the first of its kind in the UK drawing its energy from a renewable source, claims AOC, with power coming from the largest biomass plant in the country located at Markinch in Fife.
Queensway Data Centre will accommodate up to 1,500 computer racks, and will be built to environmental assessment agent BREEAM's 'outstanding' standard with a power usage effectiveness (PUE) rating of less than 1.15.
"Occupiers can expect to reduce their carbon emissions from data centre activities by in excess of 80% in what will be one of most advanced facilities in Europe," said AOC. "The centre will be carrier neutral and provide diversely routed connections from the UK's backbone fibre network."
A detailed planning application will be submitted within the next few weeks and work could start on the £40 million facility as early as this summer.
The development, said AOC, will create up to 250 construction jobs and around 50 full time technology and engineering jobs when completed in just over a year.