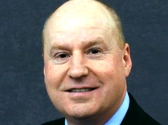 Davies has been given the task of growing the power products business significantly over the next five years.
He has set the target of identifying four or five strategic end-markets which Vicor will address with its power products, which range from configurable AC-DC power supplies to system-in-package power converter ICs.
"We will enter new markets for us with new products," said Davies.
"We are already taking to lead customers in some of these new markets," said Davies.
One of the new markets Vicor will go after is electric vehicle power train design.
"We will be launching new products later this year which will address these new markets," said Davies.
The new sales strategy will be rolled out in the next three months.
The former semiconductor executive has taken Vicor's product strategy which was divided into three businesses – supplies, modules and chips – and created a business specific end markets which will range from industrial to military, sustainable energy systems to medical.
"It was a very product-centric business and I have fine-tuned it and turned it into a market segment lead business," said Davies.
Each market will have a sales team and each team will sell the full range of products.
These include DC-DC converter bricks and configurable power systems and the V•I Chips range of PRM buck-boost regulators and VTM current multipliers.
There are also the Picor families of system-in-package (SiP) components power converters and mixed-signal power management ICs.
"My intention is to present a single face to the customer," said Davies.
"But I see certain product lines taking a lead in specific markets," said Davies.
Davies joined Vicor three months ago from lighting firm Osram Sylvania. Before this he worked with Analog Devices, Allegro Micro Systems and Siliconix.