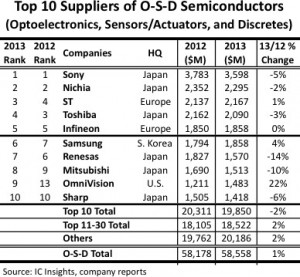 It was not, however, a good year for the sector.
Opto, led by LED, did best – growing 5% to $29.2 billion.
The sensors/actuators segment was uncharacteristically flat with no growth last year at $8.7 billion.
The discretes market dropped 5% to $20.7 billion.
Ten companies accounted for 34% of the $58.6 billion combined OSD market last year but the collective market share of these ten companies fell 2%.
The top 30 companies accounted for 66% of the OSD TAM.
Top Ten OSD Suppliers 2013
$bn
Sony. 3.6
Nichia 2.3
ST 2.2
Toshiba 2.0
Infineon 1.9
Samsung 1.9
Renesas1.6
Mitsubishu 1.5
OmniVision 1.5
Sharp 1.4