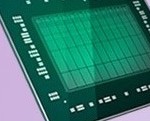 Altera's fourth quarter sales of $454.4m were up 2% from Q3 and up 3% from the fourth quarter of 2012.
Xilinx reported Q3 sales of $587m up 15% from the same quarter of last year, but down 2% from the prior quarter.
"Sales from Xilinx's 28nm products were $100m in the December quarter, driven by particularly strong and broad-based Kintex-7 sales," said Xilinx CEO Moshe Gavrielov.
According to Gavrielov, sales of Zynq-7000 SoC-like devices more than doubled sequentially.
Gavrielov claimed the 28nm device sales gave Xilinx "PLD share gains for the second consecutive calendar year."
Xilinx's net income for Q3 was up at $175.9m.
Altera reported Q4 net income of $98.9m down both quarter-on-quarter and year-on year.
"Our new products were the quarter's growth drivers, with double digit growth, led by our 28 nm FPGAs," said John Daane, Altera president and CEO.
"In the first quarter we will begin shipping our 20 nm mid-range Arria 10 devices," said Daane.
"With the fourth quarter release of Quartus II software Arria 10 edition, we became the first and today remain the only major FPGA vendor with fully available development software for a 20 nm FPGA family," said Daane.