Ford's solar-powered car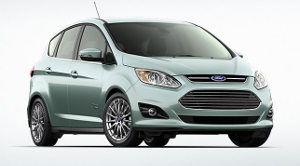 Ford has brought out a solar-powered car.
The concept car, called C-MAX Solar Energi Concept, was developed by Ford, Sun Power and Georgia Tech.
Ford and Georgia Tech are to test out the concept car to see if it will be a feasible product for production.
The car is said to have a range of 620 miles including up to 21 electric-only miles.
The car can also be charged via a cord in the conventional way.
According to the US Environmental Protection Agency ratings based on its miles per gallon gasoline equivalent (MPGe) metric the car has a 108MPGe rating for city driving and a 92MPGe rating for highway driving.
SunPower provides the solar cells and Georgia Tech found a way to amplify the sunlight to make it practicable by developing an off-vehicle solar concentrator that uses a special Fresnel lens to direct sunlight to the solar cells while boosting the impact of the sunlight by a factor of eight.
Fresnel is a compact lens originally developed for use in lighthouses. Similar in concept to a magnifying glass, the patent-pending system tracks the sun as it moves from east to west, drawing enough power from the sun through the concentrator each day to equal a four-hour battery charge (8 kilowatts).

Related posts