Foundries flourish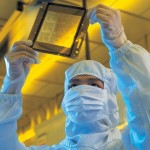 TSMC had revenues of $1.86 billion in August up 5.7% on July and up 11.2% on August 2012.
TSMC had July revenue of $1.74 billion up 7.3% on July 2012 but down from the $1.77 billion of June 2013.
TSMC had sales of $1.73 billion in May – a slight rise on April's $1.7 billion.
TSMC's Q2 sales hit $5.2 billion – up 17% on Q1, and H1 sales were $9.7 billion
TSMC's YTD revenues to the end of August are $13.3 billion – up 19.3% on the Jan – Aug period last year.
A recent Barcap note said new games machines from Microsoft and Sony and new phones from Apple were boosting TSMC which is expected to enjoy fab utilisation of 85-90% in Q4.
UMC had August revenues of $371 million, up from $347 million in August last year, and up from July revenues of $386 million, June revenues of $368 million, May sales of  $361 million and April sales of $336 million.
UMC had H1 revenues of $2 billion which were 5.4% up on H1 2012.
UMC's YTD revenues were $2.76 billion compared to $2.6 billion last year