Good European sales in August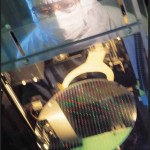 European chip sales were up 2% August on July and 5% up August 2013 on August 2012, says WSTS.
There was strong growth in discretes, microprocessors, sensors & actuators and total logic. Memory was up by 6.4%.
August European sales in were$ 2.9 billion.
YTD sales increased by 2.5% versus the same period in the year 2012.
Exchange rate effects continued to impact the data.
Measured in Euros, semiconductor sales were 2.204 billion Euros in August 2013, an increase of 1.2% versus the previous month and a decline of 1.1% versus the same month a year ago.
On a worldwide basis, semiconductor sales in August 2013 were US$ 25.873 billion, up 1.3% versus the previous month and up 6.4% versus the same month in 2012.