The World Intellectual Property Organisation (WIPO) confirmed that under its PCT (Patent Cooperation Treaty) system which protects an invention in 148 countries without immediately conferring a patent – but which is often the prelude to a full patent application – Huawei was the No.1 applicant last year with 3,898 applications.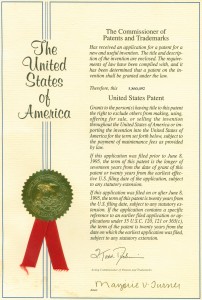 No.2 was Qualcomm with 2,442, No.3 was ZTE with 2,155 applications followed by Samsung with 1,683, and Mitsubishi Electric with 1,593 applications.
By country, the USA took first place as it has done for the past 38 years.
Although the USA's PCT filings were 6.7% lower than in 2014, it had 57,385 PCT applications.
Japan was No. 2 in PCT filings with 44,235, and China was No.3 with 29,846.
The UK was in 7th place with 5,313 applications, with Germany, Korea and France in 4th, 5th and 6th places with 18,072, 14,626 and 8476 applications respectively.
"Global intellectual property applications, like those for patents, trademarks and industrial designs provide a good indication of the incidence and location of innovation," said WIPO Director General Francis Gurry.  "We see through this indicator that, while the United States of America maintains its premier position, the geography of innovation continues to shift and to evolve, with Asia, and in particular Japan, China and the Republic of Korea, forming the predominant geographical cluster," he added.
See also: Huawei and Alcatel-Lucent rethink optical networks for 5G
See also: Electronics patent of the month: A battery management system for portable devices
See also: Electronics patent of the month: Contact profiles for landline telephones
See also: Comment: UK-based innovators could harvest 5G windfall
Read more patent news stories on Electronics Weekly »