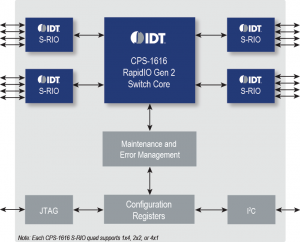 The products are the result of work the companies have conducted under the charter of the Open Compute Project (OPC) HPC group, which IDT co-chairs. They will deploy IDT's recently introduced RXS family of RapidIO switches, which enable ports running at up to 50Gbps with less than 1.2W per port and 100ns latency.
"The single millisecond round trip latency requirements of 5G infrastructure will place considerable demands on all computing elements in the network, and these new RapidIO-based switching appliances deliver a leading combination of latency and energy efficiency," says IDT's CTO Sailesh Chittipeddi. "This collaboration with Prodrive Technologies helps meet the needs of 5G edge computing and C-RAN in the telecommunications arena, as well as high-performance computing and datacentre analytics."
Initial systems using switch appliances with 38 ports operating at 20Gbps have been deployed in wireless C-RAN and data analytics systems. Additional products, expected in the latter half of 2016, leverage IDT's 50 Gbps-per-port RXS switch silicon portfolio with 19-inch rack-mountable systems.
The switch appliances feature scalable modularity with 32 to 96 ports supporting clustering at rack or multi-rack scale for target applications supporting heterogeneous processing with CPUs and accelerators.
Multiple switch appliances can be connected in a leaf and spine network using the RapidIO protocol to connect up to 64K processing nodes in a single network. Individual ports can be configured to run at a variety of speeds, including 1, 2.5, 5, 10, 20, 40 and 50 Gbps, and thus tuned to optimise overall system power consumption, depending on application workload.