IEF2013: No more learning curve at 20nm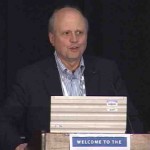 20nm will be the first node ever which will not deliver cheaper chips, Wally Rhines, CEO of Mentor Graphics, told IEF2013 in Dublin.
"At 20nm there will be no cost/transistor cross-over for the first time in history," said Rhines, "it's very disturbing."
Traditionally the cost per wafer increases 15/20% at each node. With finfet, the cost increase is more like 40%
Added to that is the additional cost of double-patterning which comes in at 20nm.
EUV would solve the cost problem but EUV is not happening. "The EUV delivery date slips every year by one year except for the years it slips two years," cracked Rhines.
450mm would also solve the problem, because it would deliver 2x to 2.3x more devices-per-wafer but, said Rhines: "450mm is too little, too late, to keep us on the traditional curve."