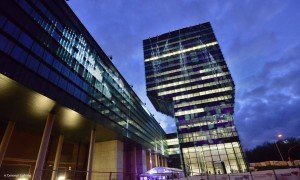 The module consists of 60 front side laser ablated and Ni-Cu-Ag plated p-type Cz-Si cells.
The plating was done in an industrial Meco vertical plating tool (Direct Plating Line) followed by annealing in an inline belt furnace.
Cells were interconnected using a standard solder and lamination process. Thermal cycling tests (-40°C to + 85°C) carried out on the full 60 cell module resulted in an overall power loss of only one percent after 600 hours—three times the standard IEC61215 test protocol. Previous damp heat testing on 30 cells in mini modules successfully passed 1.5X standard IEC61215 specification.
These test results prove the long-term reliability potential of Imec's and Besi's Cu-plated cells and modules, as they have now outperformed the industrial standard for reliability, which requires less than five percent loss relative to initial power after 200 thermal cycles or 1000hrs damp heat testing.
"We are very pleased with this superb result", says Imec's Richard Russell, "it proofs our unique and excellent know how on how to make reliable Ni-Cu-Ag plated solar cells and modules with an industrial manufacturing process."
"These results confidently prove that modules featuring on-copper plated cells are reliable and outperform IEC61215 life test criteria," said Besi's Martijn Zwegers "this breakthrough gives further momentum to the industry acceptance of Ni-Cu-Ag plating as a low-cost alternative to front side screen printing of Ag pastes."