Industrial IC market flat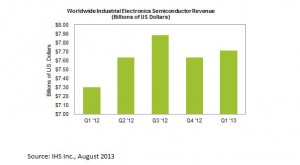 Industrial IC revenue grew by 1% in Q1 to $7.7bn , says IHS. Q4 had seen a 3% decline year-on-year.
"The industrial semiconductor market's performance was encouraging, especially in light of continuing global economic uncertainty and the seasonal nature of the market, which typically sees slower movement in the first quarter of every year," said Robbie Galoso, at IHS, "Some large segments of the industry, particularly avionics and oil and gas process-automation equipment, saw muscular double-digit gains, helping to drive up overall revenue."
In another positive development, several large industrial semiconductor suppliers also reported very lean inventories because of strong orders from customers.
Infineon, ADI and TI saw sequential declines in industrial chip stockpiles as their days of inventory (DOI) measure fell well below average.
"The individual sectors for lighting, security, climate control and medical imaging were deleteriously impacted in the first quarter," said Galoso.
The military and civil aerospace market had the most robust performance among all industrial semiconductor segments in the first quarter. Avionics was especially vigorous, driven by commercial aircraft sales from pan-European entity EADS Airbus and US maker Boeing, up 9% and 14%, respectively, on the quarter.
The oil and gas exploration market also saw solid revenue growth, with strong subsea systems and drilling equipment driving sales for ABB, Honeywell and GE.
In contrast to those high-performing segments, lackluster sales were reported in the markets for building and home control, for energy generation and distribution, and for test and measurement. One other market, manufacturing and process automation, reported stable growth, even though its sector for motor drives remained in negative territory.