Commercial aircraft, LED lighting, digital video surveillance, climate control, traction and medical devices are driving most of the global demand for industrial semiconductors, said IHS.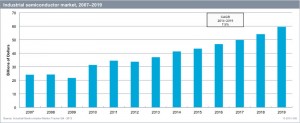 Source: Industrial semiconductor revenues -IHS
The greatest semiconductor growth will come from LEDs, which is expected to reach $14.5 billion in 2019, stemming from the global LED lighting boom.
Discrete power transistors, thyristors, rectifiers and power diodes are expected to hit $7.8 billion in revenues, due to the policy shift toward energy efficiency in the factory automation market.
Analogue ASIC can expect strong growth through 2019, reaching $4.7 billion in industrial markets, especially in factory automation, power and energy, and lighting. Growth will primarily come from various power management product portfolio offerings and device integration from TI, ADI, NXP and other leading semiconductor firms.
MCUs are also expected to experience robust growth in the long term, growing from $4.4 billion to $6.3 billion, thanks to advances in power efficiency and integration features.
Total industrial OEM factory revenues are forecast to grow at a CAGR of 5%, reaching $670 billion in 2019. Industrial OEM factory revenues specifically grew 6% in 2015 driven by increased sales in building and home-control, and military and civil aerospace sectors. High-growth categories include LED lighting, climate control, digital video surveillance products and commercial aircraft.
The US market accounted for 30% of all semiconductors used in industrial applications in 2015. China was the second largest industrial chip buyer, purchasing about 16% of all industrial semiconductors.
"Robust economic growth and increased capital spending in the United States is good news for industrial semiconductor suppliers, because they have the world's largest industrial equipment makers, including General Electric, United Technologies and Boeing," says IHS' Robbie Galoso, "strong industrial equipment demand will further boost sales of optical semiconductors, analogue chips and discretes, which are the three largest industrial semiconductor product segments."