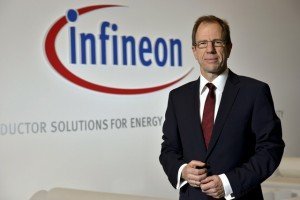 It expects 13% growth this year with 3% q-o-q growth in the current quarter.
"Our business performed better than expected in the past quarter. Infineon's broad diversification in terms of customers, markets and regions is paying off," says Dr. Reinhard Ploss, CEO of Infineon, "we are doing particularly well in the automotive business, where Infineon's leading expertise is prevailing. Our solutions for driver assistance systems continue to generate growth. Electromobility is gaining momentum as well."
The company states:
At €1,556 million, the Infineon Group's revenue totaled €42 million or 3 percent lower in the first quarter of the current fiscal year due to seasonal factors, down from €1,598 million in the fourth quarter of the 2015 fiscal year. The Industrial Power Control (IPC), Power Management & Multimarket (PMM) and Chip Card & Security (CCS) segments all reported decreases, whereas the Automotive segment (ATV) recorded revenue essentially flat compared to the previous quarter.

The revenue decrease caused the gross margin to decline from 39.0 percent to 35.9 percent quarter-on-quarter. Acquisition-related depreciation, amortization and other with the acquisition of International Rectifier related expenses totaling €27 million were recorded in the first quarter.